Pads, tampons, period pants; how do you know which is best for you? Choosing the perfect menstrual product can be difficult, especially if you're starting your period for the first time.
The good news is, you have plenty of options and different absorbency levels to choose from. It's important you always feel protected and confident, so we've compiled the ultimate DAME guide to help you learn more about your period product options.
Hopefully, once we've run through your options, you'll know what to try and what should work best for you!
Period pads
Period pads, also referred to as sanitary towels, are absorbent pads that you wear inside your underwear to catch blood during your period. They usually have wings that wrap around your underwear to secure the pad in place.
How do I use a period pad?
For disposable pads, you remove a wrapper on the pad that reveals a sticky strip which you then press down against your underwear to fix it in place. Sometimes you'll have wings to wrap under your underwear too.
If you go for a reusable pad, however, they're usually secured with a popper or fastening on wings that wrap around your underwear.
We recommend changing your pad every 4-6 hours. For reusable pads, rinse or soak your pads and liners in cold water, then add to an existing dark wash to clean as usual.
Which period pad is best?
Just like most period products, different pads come with different absorbency levels that dictate how much blood they can hold. It's best that you experiment with the different pads and your own flow to see which absorbency works best for you.
Period pads also come in different lengths. Ours, for example, come in three lengths: 18cm, 20.5cm and 28cm. As with absorbency, you can choose the best size for you based on your flow. You may also want to mix-&-match your pads depending on the time of day and use a night-time pad (a longer pad with a higher absorbency) whilst you sleep.
The main benefit of period pads
Reusable pads can be one of the most cost-effective period product options. You'll spend between £9.99 and £11.99 per pad initially, but then you simply wash them and reuse them again and again. Even better, disposable pads are typically up to 90% plastic so you'll be saving the planet too by reducing the waste created by single-use period products!
Tampons
Tampons are made of ultra-absorbent compressed material, inserted into the vagina to soak up menstrual blood before it leaves the vagina. The small, bullet-shaped end is inserted to absorb the blood, while the string stays outside of the vagina so it can be easily removed.
How do I use a tampon?
Some tampons come with an applicator for easy insertion, and others are just inserted using your finger. If you've inserted your tampon correctly, it should sit comfortably in your vagina, and you shouldn't be able to feel it.
There are usually instructions that come with a box of tampons which you should read if you're inserting a tampon for the first time. If you've never used a tampon before, it might be best to use a tampon with an applicator, to make it more manageable.
First, always wash your hands. Then, find a comfortable position (perhaps bend your knees or put your foot up on a toilet seat) and then gently slide the applicator into your vagina at a slight upward angle. Push the inner tube of the applicator inside the outer tube to push the tampon into your vagina.
Once the tampon has been released, you can remove the applicator. The string should be hanging outside of your vagina for easy removal and disposal later. Always wash your hands once you're done.
Remember to change your tampon every 4-8 hours.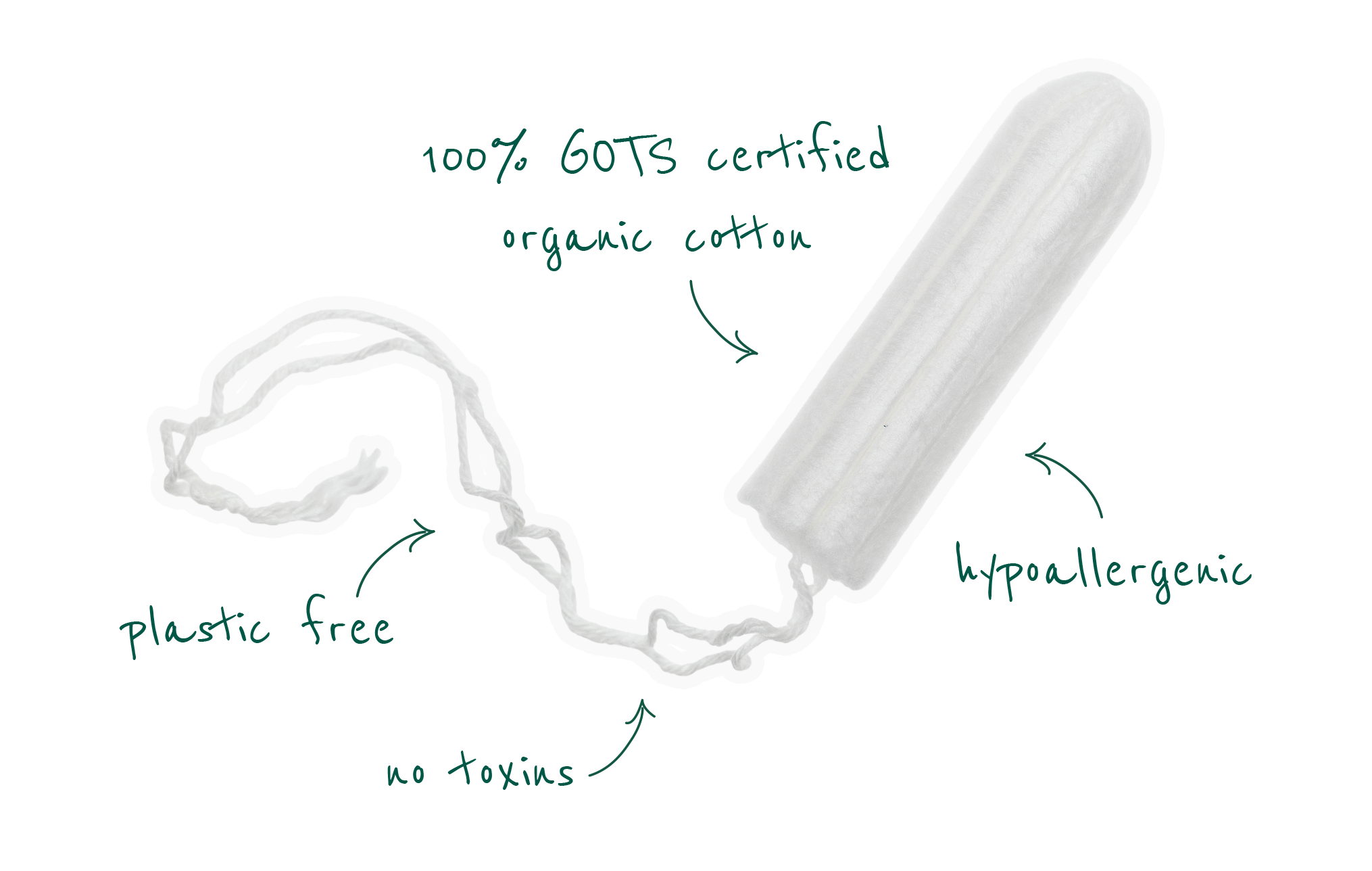 Which tampons are best?
We would always advise opting for an organic and toxin-free tampon to make sure you're not putting any unnecessary stress on your vagina. There's a surprising amount of plastic and even chemicals in some tampons, therefore it's important to be aware of what your products are made of and use a sustainable option if you want to reduce the impact on our planet too.
To be even more environmentally friendly, using a reusable tampon applicator means you can seriously reduce the amount of single-use plastic that goes to waste when an applicator goes in the bin. Simply rinse (or wipe clean) your reusable applicator after each use, it doesn't need to be boiled or washed as it contains self-sanitising polymers to keep it hygienic.
The main benefit of tampons
Tampons are particularly useful if you want to go swimming during your period or want to do some exercise. You may even want to double up your products and wear a tampon whilst also using a pad for extra protection.
Period pants
Reusable period pants look and feel just like normal underwear. The difference is that they have a special layer that absorbs blood so you can wear them with no other products during your period.
There are different levels of absorbancies for period pants, just as there are for tampons or pads, so it's important that you test out what works for you and your flow. You may even want to use period pants alongside a tampon to add that extra layer of protection on heavier days.
How do period pants work?
DAME period pants are made with a high-tech combination of wicking and absorbing fabrics.
An absorbent odour-proof layer made from 4D fabric technology holds 10 times its weight in two seconds and can be worn for up to 8 hours typically. It also prevents the growth of bacteria on contact so you can be confident your pad is as hygienic as possible.
Just like tampons, we recommend changing your period pants every 6-8 hours. That said, if it's your first time using them, or perhaps your flow is a little unpredictable, it's a good idea to check them more often.
The main benefit of period pants
As they're reusable, period pants are a great option if you want to be sustainable during your period. They can last for many years so save you money in the long run instead of continually purchasing disposable products.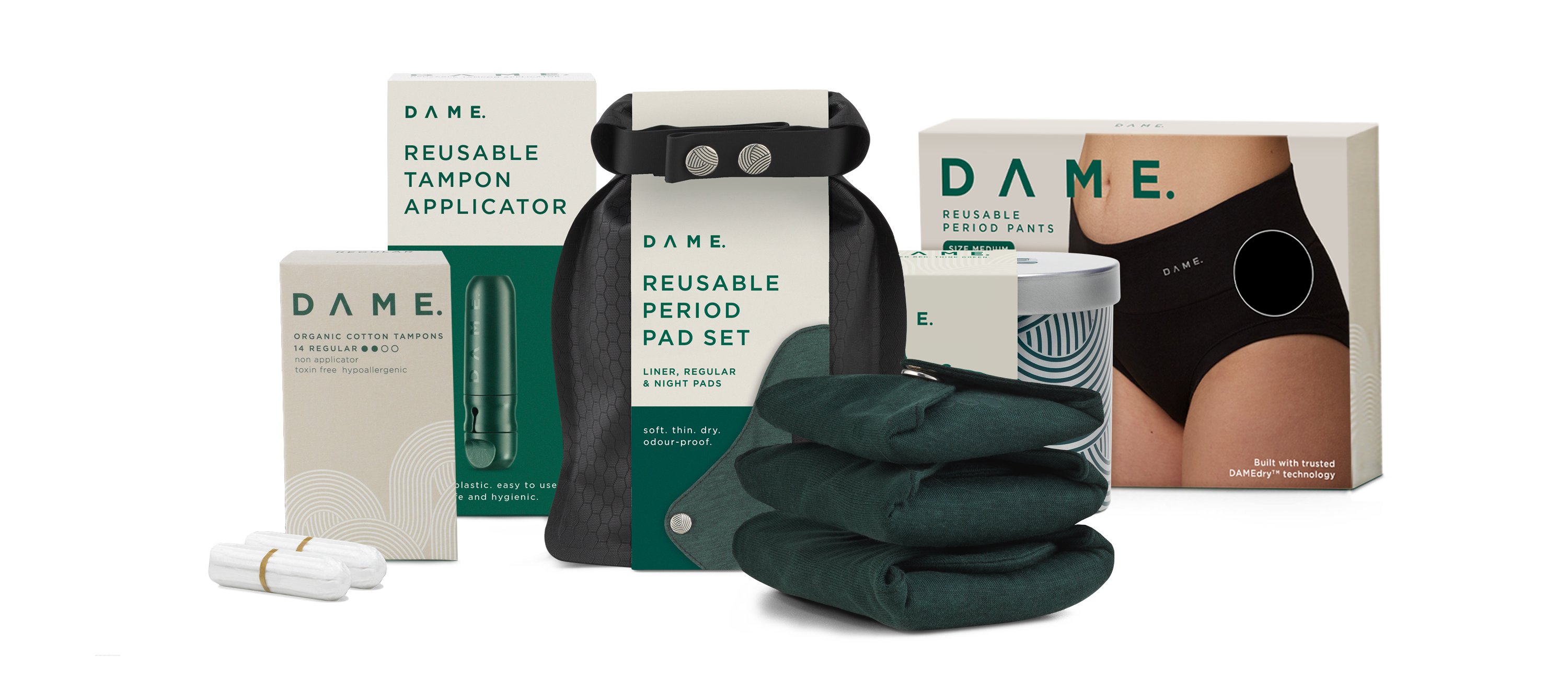 What's the best period product for me?
The decision on which period product works for you is, unsurprisingly, up to you! That said, we really recommend trying sustainable options first as they'll save you money in the long run and are much better for the planet.
Remember, you don't have to stick to just one product. If you do a lot of exercise during your period or have a heavy flow, you may change your products throughout your period. All that matters is that you're doing what feels best for you and your cycle so that you can feel confident on your period.