Why the Best Period Pads Will Always be Reusable
At any given time, 800 million women and youth worldwide are menstruating, according to WaterAid*. The average woman will menstruate once a month, for roughly 35 to 40 years of her life. That's approximately 3000 days—more than 8 years—of periods during her lifetime. EIGHT YEARS.
That's eight years of your life when you might be wearing sticky, sweaty plastic period pads in your pants. You might still use plastic-filled disposable period pads because they're convenient; they're easy; they're what your mother used.
AIRHORN: LIFE IS TOO SHORT to be using crappy pads!
Here are 5 reasons why reusable period pads will always be the best:
1. SOFTER
Our dreamy design team at DAME HQ have designed the softest, most comfortable pads on the market. They are a joy to wear, fastened with a popper underneath your pants, with extra grip to keep them in place.
No more glue sticking to your pubes or crinkling of plastic as you walk. Be gone disposable pads! Reusables really do feel better against your skin.
2. DRIER
One of our main aims for these pads was they had to out-perform disposables. The fast-wicking material technology includes five layers of material:
Core: A wicking layer that draws moisture away from your skin in seconds (polyamide, polyester, lycra)
Top and Bottom outer layers: Two layers of super-soft natural fibres that stay comfortable against your skin (lyocell, organic cotton)
Odour-proof inner layer: An absorbent odour-proof layer is made from 4D fabric technology that holds 10 times its weight in two seconds (organic cotton, bamboo, polyester)
Watertight backing: Watertight layer gives you extra security (polyurethane)
We appreciate that the polyester and polyurethane aren't natural, but they do make the pad ultra-efficient. In our eyes, this is a product to be reused time and time again. It's a whole world better than the disposable pad alternatives. One of our missions (we have many!) is to look to utilise repurposed and/or recycled materials in the future.
3. THINNER
Many of our customers comment on how thin the pads are, which makes us super happy. No one wants to wear a thick mattress between their legs, right? DAME reusable period pads are thin but mighty for a leak-free, stress-free period.
4. GREENER
An average pack of disposable period pads contains the equivalent plastic of FOUR plastic shopping bags. But...
Switching to our reusable pads can save more than 2,000 plastic disposable pads. If you add up all the people on their periods over the next few years, that's a lot of plastic saved from landfill and our oceans.
As we know, all too well, when you throw something away, there is no away.
5. MONEY-SAVING
Another objective for our team was that the pads had to save you money in the long run. And they do! Woop woop!
We're very excited that over five years, DAME reusable pads cost less than disposables.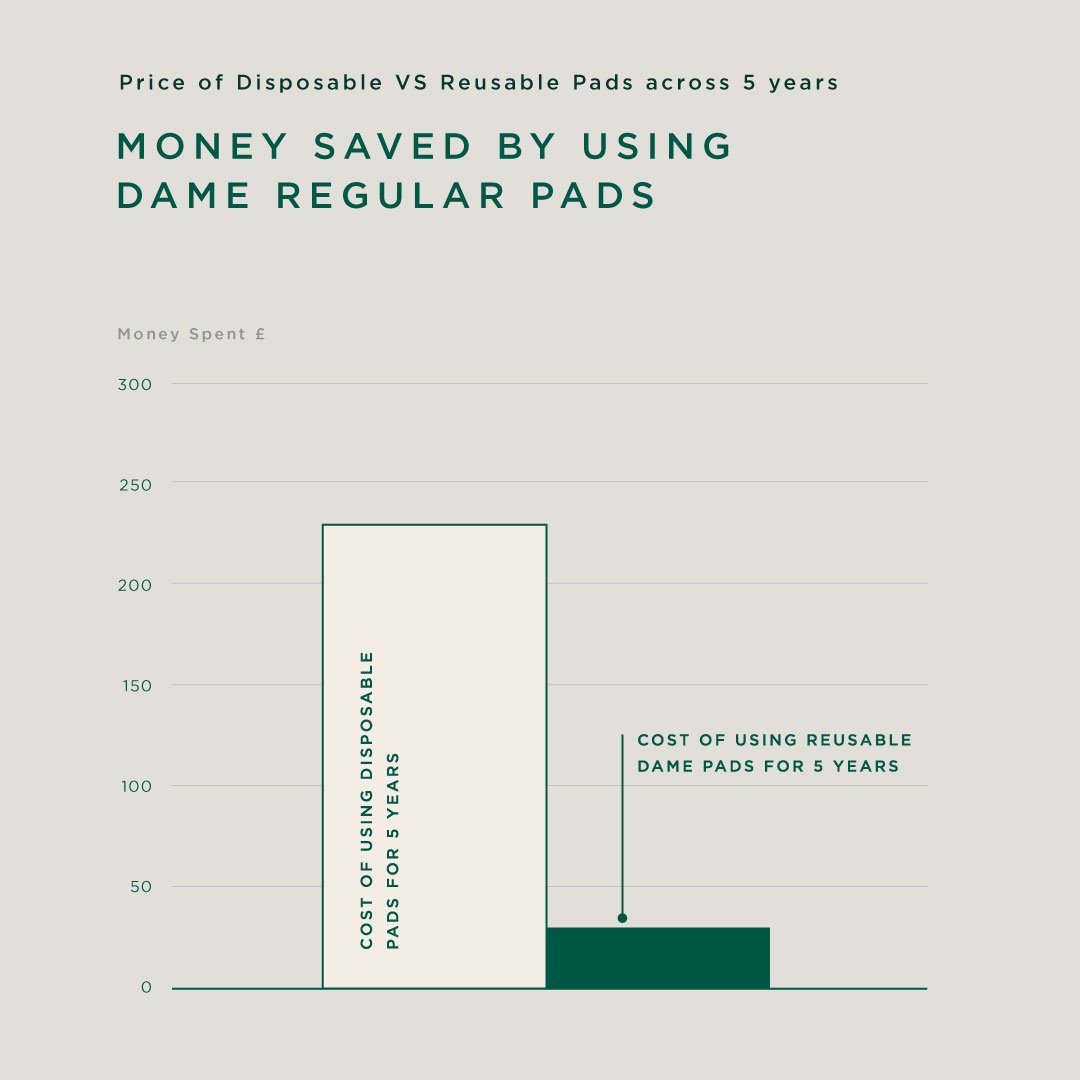 CHOOSE TO REUSE
With the new wave of innovative reusable period products, comes the hope that one day, we can reduce the plastic period waste to zero.
That's why at DAME we are obsessed with converting as many people as possible over to using reusables.
Come join the reuse revolution!
https://www.wateraid.org/us/stories/International-womens-day-having-a-period-shouldnt-hold-women-back