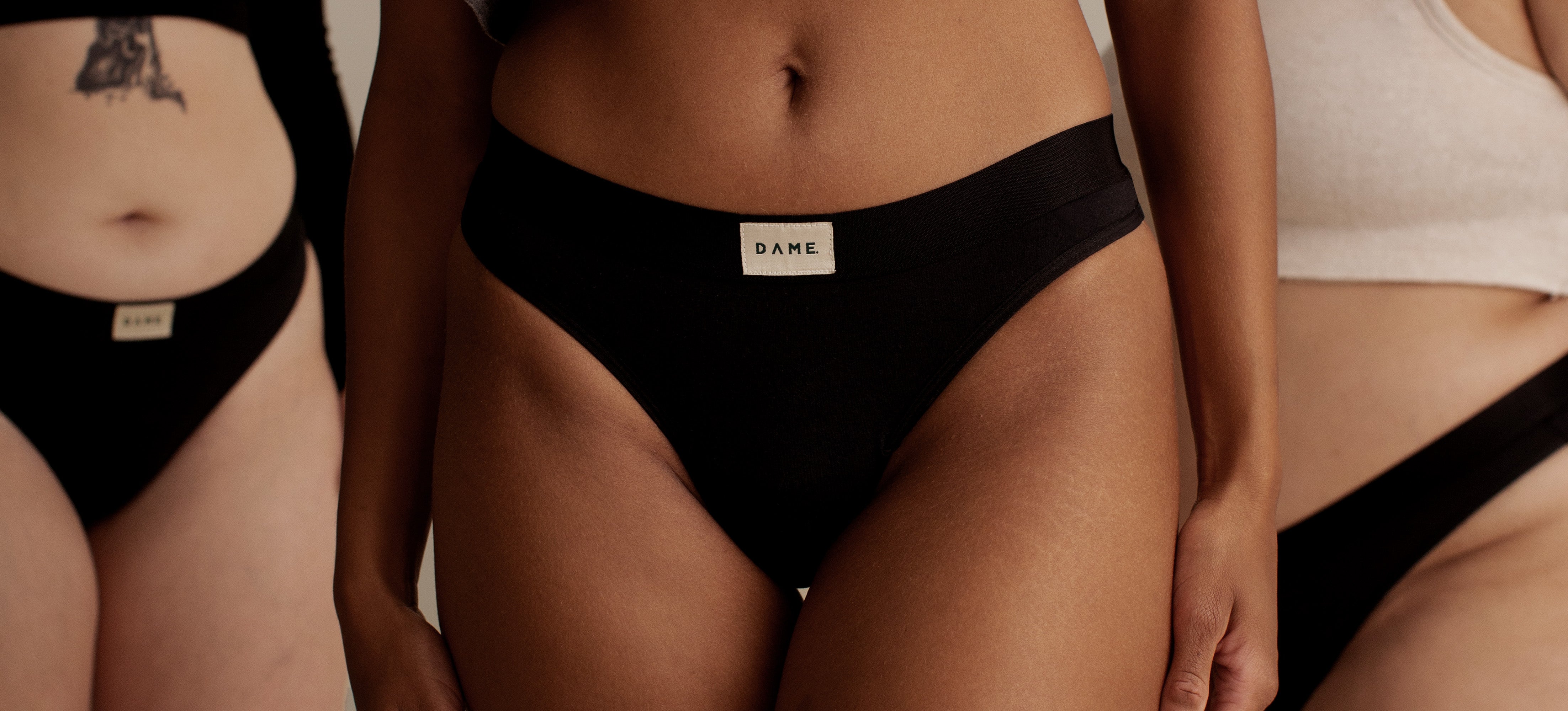 Leak-Proof Period Pants.
Our unique DAME period pants provide long-lasting security and soft organic comfort.
Saver Sets 🎉
Buy 3 pairs and save
10%
Buy 5 pairs and save
15%
shop and save
FAQ
How do I use DAME reusable period pants?
Our period pants are just like normal underwear, except for the built in protective layer that absorbs your period. Simply wear them as you would your normal underwear and go about your day (or night).
Just wash them in a normal dark load after use and please remember to wash before first use for max absorbency power. Please do not tumble dry! 
Got more questions? Get in touch here
How do DAME reusable period pants work?
DAME period pants are made with responsibly sourced and organic cotton fabrics which feel soft against your skin, and absorbent cotton rich inner layers to capture your flow. 
The unique gusset construction acts as a waterproof barrier to side leaks and our gusset fabric is powered by a revolutionary textile technology which dynamically responds to temperature conditions providing you cooling comfort during wear. 
This means your period pants will feel dry all day long and stay odour-proof thanks to effective and sustainable odour control inside the absorbent layers.
Are your reusable period pants hygienic? (Do they smell?)
To put it simply, yes our reusable pants are definitely hygienic! 
The absorbent layers are treated with non-nano recycled silver for trusted antimicrobial odour control and durable freshness.
What are DAME reusable period pants made of?
DAME period pants are made of organic cotton jersey, and feature our leak-proof construction in the gusset for ultimate period protection. 
Want more detail?
The main body of the pants are made from soft jersey and feel like your regular underwear (organic cotton).
The top cotton layer in the gusset keeps you cool and comfortable (responsibly sourced cotton).
The odour-proof inner layers are soft and absorbent with powerful antimicrobial odour control for durable freshness (cotton, polyester).
Additionally, there is a waterproof layer in our unique gusset construction to prevent leaking (polyurethane).
How often should I change my reusable period pants?
We recommend changing your period pants every 6-8 hours. That said, it's a good idea to check them more frequently the first few times you wear them to understand how they work for you and your flow.
If you'd like to chat further, please get in touch here.