Doesn't require boiling to clean!
---
Description

SIZING

COMES WITH
The DAME Period Cup is made from soft and flexible medical grade TPE and powered by natural, biocide-free Saniconcentrates™. This means no more boiling or sanitising required between wears,  just rinse, wipe and reuse.
The DAME Period Cup is available in 2 sizes. The M is 43mm diameter and 67mm length, and generally works best  for those under 30 who haven't given birth vaginally. The L is 46mm diameter and 67mm length, and generally works best for those over 30 or who have given birth vaginally. Once inserted your cup should feel comfortable. 
Digital guide
Breathable 100% cotton DAME storage bag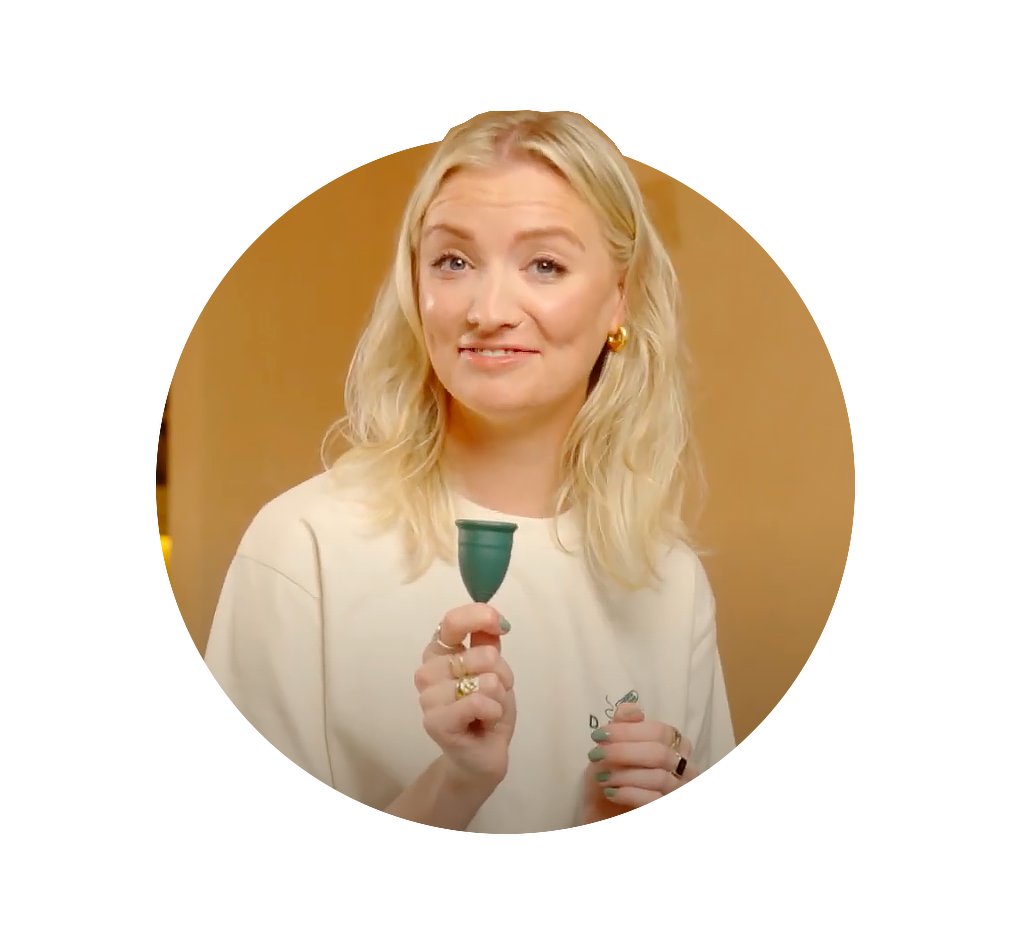 We've teamed up with the amazing Hayley Morris to create the ultimate resource for first timers and pros alike.
QUICK START GUIDE 🚀
1. Getting started
First of all, wash your hands and relax, you got this. To fit the cup inside you, you need to fold it. There are 3 main options: The C Fold, 7 Fold, and the 'Punch Down'.
💡 TOP TIP: We find that most of our customers opt for the C Fold when they first start, then switch to the punch down, as this creates a narrow tip which feels similar to inserting a tampon. Have a play and find out what works best for you.
Scroll right on devices >>
2. Inserting
There are 3 main body positions to help with insertion. The squat, the leg up and sitting on the toilet. Relax and insert. Wetting the cup before inserting can ease things along. When in properly your cup sits in your vaginal canal like a tampon, but a couple of centimetres lower. If you insert the cup higher up nearer you cervix, it may shift around as your vaginal canal is wider there. 
💡 TOP TIP: Most people find inserting gets easier each time. If you find it challenging at first you're not alone, stick with it!
3. Wearing
Your cup is in, woop! Depending on your flow, you can leave it in there for up to 12 hours without having to worry about it. How great is that? If you've inserted it correctly you shouldn't feel any discomfort, in fact you'll likely forget it's even there.
💡 TOP TIP: your DAME Period Cup can hold over 3 times more than a regular tampon! Empty your cup more regularly whilst you get used to using it throughout your period.
4. Removing
The cup stays put thanks to the vacuum seal it creates. To remove it, first wash your hands and then pinch the base between your thumb and forefinger to break the seal, and carefully pull it out.
Important advice: Don't pull on the stem, it's not going to do anything, other than feel a bit weird.
💡 TOP TIP: First try removing the cup in a warm shower. You'll be relaxed and you won't be worried about making a mess. 
5. Cleaning & Care
Rinse your cup with cool water until visibly clean, using gentle soap if needed. Dry and keep in your storage bag at the end of your period. Unlike other cups, you do not need boil your DAME Period Cup between uses.
💡 TOP TIP: Try the "palm squeeze"! Fill the cup with water and place the rim against the palm of your hand. Then turn it over and squeeze it so the water cleans out the small holes on the sides.